LAST UPDATE MARCH 2020
What are they?
The Extended chokes are widespread and purchased by shooting enthusiasts, whether sporting or hunting ones, as their versatility allows the application on any type of shotgun.
Once installed, they stick out 20 mm past the muzzle of the firearm without adding too much weight at the muzzle end, besides that they are easy to assemble and disassemble using the appropriate key. They are really performing, both thanks to the material in which they are made, and to the special internal profiles that increase the effectiveness of your shot. Furthermore they are available in the Steel Shot version, meaning they can also be used in combination with lead-free ammunition for hunting in wet areas. For this specific model you will find a variety of constriction sizes up to F (*) in the catalogue.
Recommended uses
The use of Extended choke tubes is recommended for several types of activities. They are certainly optimal for sport shooting; Trap, Double Trap, Electrobiles, Skeet and Sporting, what is more they are amazing even if used for hunting, especially in wetlands.
In general we can affirm that the Extended choke tubes can be mounted to both the first and second barrel of your shotgun and, depending on the chosen constriction size, they can be used for all types of sport shooting.
As for the hunting activities, you can use the Extended choke tube installed on self-loading well as side-by-side or over and under shotguns. To choose the most suitable constriction size for your type of activity we advise you to refer to our guides dedicated to hunting and shooting sports.
Models and materials
Depending on the models you will find 7 or 11 types of constriction sizes in the catalogue, from the tightest XXF (1,14) up to the widest SK2 (-0,30) one. All of them are made of 42CrMo4 alloy steel, a super-resistant and high-performance material with different finishes (external grinding + internal lapping) and treatments (Nickel or Nickel + DLC). For some models, the Ti 6Al-4V (grade 5) titanium version is also available, suitable to ensure performances very similar to steel, despite having a much lower weight. Titanium chokes undergo DLC treatment only.
Extended choke tubes are available for 12-, 20-, 28- e 36 gauge.
To understand the different nomenclatures that involve these products, we enclose a comparison table between letters and constriction sizes (in mm and in inches) according to the barrel constriction size (12-gauge).
DLC, Diamond Like Carbon, is an innovative coating that allows you to face problems related to abrasion, anti-adherence and harsh chemicals affecting your choke tube. The extreme hardness and low frictional coefficient make this coating ideal for such application.
Mounting
As for installation, always remember that Extended choke tubes must never rest on the crown of muzzle, on the contrary it is necessary to keep from a tenth to about void ranging from a few tenths to about 1 mm, clearly visible even to the naked eye. That will ensure a proper internal clamping, avoiding any unexpected damage or breakage. Always use the appropriate key for these routine operations.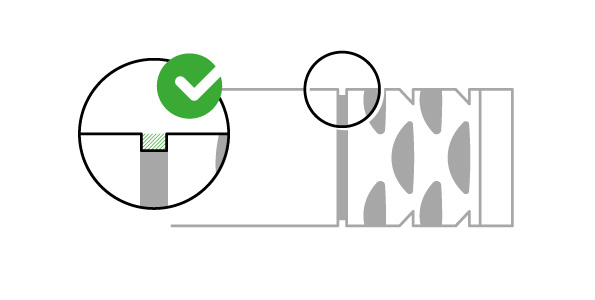 Maintenance and cleaning
Extended choke tubes maintenance is absolutely ordinary, you can carry out disassembling and cleaning every 15 days, if you use your firearm constantly. Also in this case, equallly to the other choke tubes, we recommend the use of our cleaning kit or a specific ultrasonic gun cleaner to keep them always tidy and perfectly working. Pay attention to the impacts, which could affect the integrity - thus preventing the use - of your Extended choke tube.